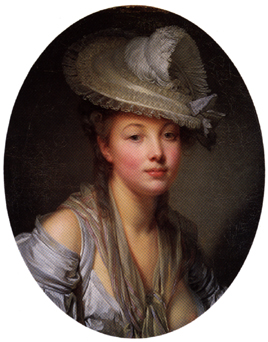 Young Woman in a White Hat, about 1780, by Jean Baptiste Greuze
Oil on canvas. 22.38 x 18.25 in. (56.8 x 46.5 cm.). Museum of Fine Arts, Boston

"Although best known for his moralizing scenes of middle-class domestic life and sentimental images of children, Greuze also painted beautiful and compelling portraits. Captured with a subtle palette of soft grays and flesh tones, this unidentified young woman . . . ." -- Museum description.