The Sino-Japanese Peace Treaty Memorial Hall, Shimonoseki City
---
While it is situated at the original site of the Shunpanro ryokan (Japanese-style hotel), this memorial hall is NOT the Shunpanro Japanese hotel where the Treaty of Shimonoseki was negotiated and signed, although it is often mistaken as such. This hall was erected by the city government of Shimonoseki around 1935-1937.

In this hall are displayed the historical relics related to the negotiations in March and April 1895. A replica conference table with authentic chairs and stationary, photographs of Li Hung-chang (in his 70s) and Ito Hirobumi (in his 50s), calligraphy of Li, etc., are among the main exhibits. Admission free as of summer 2001.

The original Shunpanro Japanese hotel, opened around the 1870s, was operated by a widow. It was patronised by the celebrities and the high society, and was the largest hotel in Shimonoseki at the time of the negotiations.* It overlooks the Kanmon Strait between Honshu and Kyushu. Vessels -- many with sails in those days -- come and go through the strait; hence the name Shunpanro (

), meaning "the Pavilion of Spring Sails". It is said that the name Shunpanro was given by Ito Hirobumi, the first Prime Minister of modern Japan.

Today, Shunpanro is still in business, after phases of rebuilding and renovation. It is just adjacent to the memorial hall.
Single room rate in 2001: from about $470 Cdn (37,000 yen) per night including two meals (breakfast and supper) served in the guest room.

*Information based on the description on a tablet erected at the site, dated around 1923.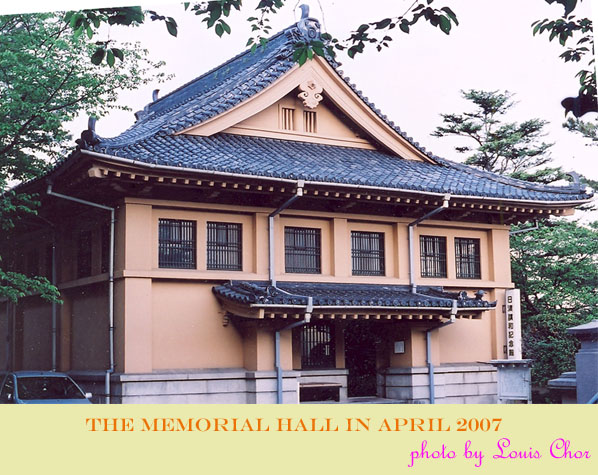 ---
From the Gardener: Louis Chor. Canada, July 1997. Revised January 2022.