The Kakiemon Kiln in Arita, Saga Prefecture, Kyushu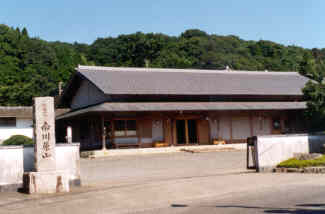 Photograph (July 1996) by W. Y. Chor
This is the hall where Kakiemon ware is for sale, price starts at ¥20,000, up to ¥4.5 million. Behind this hall is a little museum where historical antique Kakiemon is exhibited. A small pond with brocade carp links the two halls.
To get there, it seems advisable to take a taxi at Arita railway station. The fare in the summer of 1996 was around ¥880. Unless walking in the sun or rain is preferred, it is advisable to call a taxi back to the railway station. Around the area there are many other kilns. Car transportation needed.
Try experiencing the washrooms in the Kakiemon kiln complex. They give a unique Kakiemon feel.
Previous illustration
Return to list of exhibits
Return to Front Page
---
From the Gardener: Louis Chor. Canada, April 1997. Revised August 2008.