---
The Tamaki VIP guest room in Shunpanro hotel.
Photo by Louis Chor, 3rd August 2001.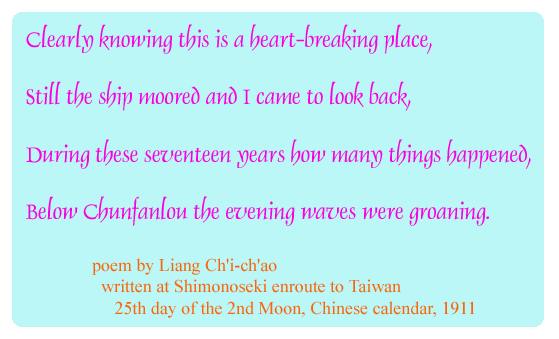 Poem translated by the Gardener

(Shunpanro in Japanese) is the Japanese-style hotel (ryokan) in Shimonoseki city (

), Japan, where the historic Treaty of Shimonoseki (
) was signed between China and Japan on 17 April 1895 to conclude the Sino-Japanese War of 1894-1895 (
). By this treaty China had to:
pay to Japan war indemnity of 200 million Chinese silver taels (
),
cede to Japan the Liaotung Peninsula and Taiwan together with the nearby islands,
and to recognise the "independence" and "self-government" of Korea.
The significance of the 1894-1895 war is no less than that of the 1931-1945 war between the two nations.
To savour this event, the Gardener stayed one night in Chun fan lou in August 2001 at the regular single room rate of 37,000 yen ($470 CAD). Perhaps as a welcome note extended to a traveller from afar, to my surprise (and with gratitude) the Chun fan lou ryokan assigned to me the guest room called Tamaki (

), which is actually the VIP room of the hotel. In the room there are a Japanese-style section and a Western-style section, to suit the taste of the guest. From the balcony I could see the Strait of Kanmon, where ships go through. "The Pavilion of Spring Sails" -- the meaning of its Japanese name -- is worthy of the name.
In the 2nd Moon of the Chinese calendar in 1911, the scholar and politician Liang Ch'i-ch'ao was at Shimonoseki on his voyage from Japan to Taiwan. The above poem is one of his poems written on board the ship. Some years later he rendered this poem in his own calligraphy which he presented to a friend. A reproduction of this calligraphy is now hung as the theme decoration in the Tamaki guest room. The Gardener has the honour to spend the night in this historic environment, one day in August 2001.
Shimonoseki city is famous for its puffer fish sashimi (

), and Chun fan lou is the first government-authorised puffer fish restaurant when the ban on eating puffer was lifted in the late 19th century. The ban on puffer because of its potential poisonousness had been in effect since the late 16th century. Now a stay in Chun fan lou includes supper with puffer sashimi.

---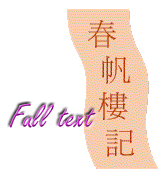 From the Gardener, Louis Chor. Canada, January 2003. Revised September 2015.