Essay in Chinese
The expansion into (that is, invasion of) the East Asian continent by Japan in modern times began with the Sino-Japanese War (Nisshin Senso) of 1894-1895. This war involved all three nations of East Asia. This page shows the land-and-sea siege that practically concluded the war, with China totally defeated. The next two pages display the formidable Chinese ironclad flagship Ting Yuan and the war heroes (though a minority) on the Chinese side.
The Sino-Japanese War of the 19th century is no less significant than the one of the 20th century, because its consequences have shaped the political geography of today's East Asia.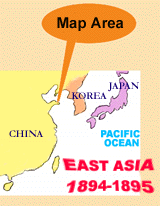 MAP LEGEND
| | |
| --- | --- |
| | Batteries or forts, total 161 guns, mostly of Krupp or Armstrong make |
| 1 | North group of forts, with 43 guns, 7-24 cm calibre. Captured on 2 February 1895 |
| 2 | Weiheiwei Harbour, harbouring 15 Chinese warships and 13 torpedo boats, and protected at its entrances by 248 sea-mines and by booms of timber and steel |
| | 3 Liugongdao Island, Admiralty of the Peiyang (North Waters) Fleet. With 61 guns. Under total siege by 8 February |
| 4 | Ridao Island, with 8 guns. Forts destroyed on 7 February |
| 5 | Ting Yuan, 7430-ton steel-hull battleship, flagship of the Peiyang Fleet of China |
| 6 | Matsushima, 4278-ton protected cruiser, flagship of the Combined Squadrons of Japan |
| 7 | South group of forts, with 49 guns, 7-28 cm calibre. Captured on 30 January |
| 8 | Position of the Combined Squadrons of Japan: 25 warships and 16 torpedo boats, commanded by Vice-Admiral ITO Sukeyuki |
| 9 | Town of Weihaiwei. Taken on 2 February |
---
The 23-day siege of Weihaiwei on the north shore of the Shandong peninsula began with the landing of the Japanese 2nd Army at dawn of 20 January, and ended with the surrender of the Peiyang Fleet on 12 February 1895.

The battle was fought in severe winter cold which developed into an overpowering snow storm on 31 January and 1 February. Temperature dropped to minus 26 degrees Celsius. Fighting men and men-of-war braved themselves against roaring winds and towering waves, as well as against one another.
**
Outline of map based on T. C. Tsen & M. C. Chao,

The Naval Engagements of the Sino-Japanese War of 1894-95 and Li Hung-chang (Taipei, 1979). Text in Chinese.
Additional reference:

Kinsei teikoku kaigun shiyo (Tokyo: 1938, reprinted 1974)
*
Go to Top
Essay in Chinese
Return to Bibliography
Return to Front Page

---
From the Gardener, Louis Chor, Canada. November 1997. Revised July 2015